Longhorns,
Thanksgiving is just two short weeks away. And as many of us prepare for rich poultry-based feasts surrounded by dozens of family and friends, an equal number of people are preparing for a lonely day filled with work and sadness.
This latter group, which for one reason or another is kept away from family and friends, expects to leave work that fateful Thursday and get in their cars and drive by all the closed restaurants and stores—presumably because all of them are closed for the Holiday. These poor souls probably plan on driving home, pulling out their pathetic cup of instant ramen noodles—or, if they are feeling festive, a frozen turkey meal—and eating alone over their keyboard while listening to the radio.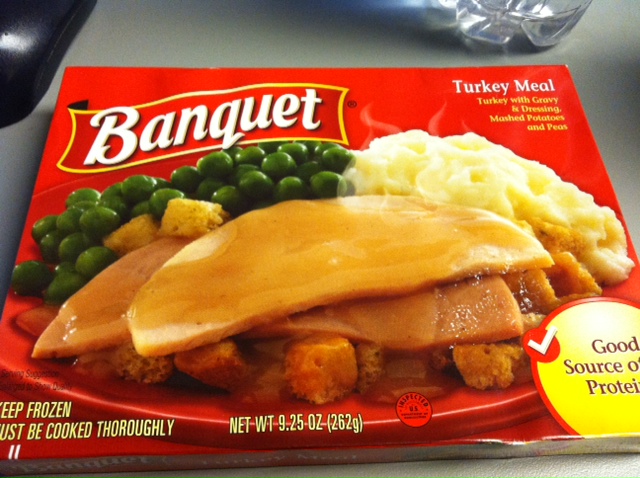 You can do better than this.
Then a Scott Elder commercial will come on and they will find themselves weeping bitter angry tears. Thanksgiving is officially ruined.
Or is it?
Contrary to popular belief, there are actually a handful of Austin restaurants that remain open for Thanksgiving Day. These servers, cooks, hosts, and other restaurant workers have given up their holiday so you still salvage yours.
So if you are still in Austin this Thanksgiving day and you have no dinner plans yet, don't fret! You can still have an amazing Thanksgiving dinner at a number of great local restaurants. Here are my selections for the 5 Best Places to Eat Thanksgiving in Austin.
1. 24 Diner
Starting at 10:30 am on Thanksgiving Day, Chef Drew Curren and the team at the 600 N. Lamar diner will be providing a fantastic, traditional Thanksgiving Dinner. Turkey, stuffing, sides, and—of course—homemade dessert prepared by Chef Curren himself. Details for the specific menu offerings have yet to be released, but stay tuned!
Meals will be $24. No reservations will be accepted. Like every day of the year, 24 Diner will be open for 24 hours, but they will only begin serving Thanksgiving Dinner at 10:30 am. Their full menu will still be available for order. If you have never been to 24 Diner then I highly recommend you check it out. For authentic American comfort food, there is no place better in Austin.
2. Hyde Park Bar & Grill
For my readers living either in Hyde Park or in South Austin, I have good news for you! Both of Hyde Park Bar & Grill's locations will be open for business on Thanksgiving Day for their Annual Thanksgiving Feast.
For authentic Thanksgiving food prepared by some of Austin's finest chefs, you will definitely want to check it out. (If you have never tried Hyde Park's beer-batter french fries, you need to do so immediately. They are the best fries in all of Austin.)
And if you want to take your Thanksgiving meal to-go, no problem! Call (512) 899-2700 and pre-order a delicious Louisiana-style fried turkey. The 5-spice cajun seasoning will blow your mind and will impress all your friends. Turkey pick-ups are only at the South Austin location. Be sure to call quickly! Quantities are limited.
3. Max's Wine Dive
A restaurant that was founded on the principle of serving fried chicken and champagne, Max's Wine Dive is a great venue for your Thanksgiving Dinner. For years, owners Jerry and Laura Lasco have been providing Austin residents—as well as diners at their other city locations—with delicious homemade Thanksgiving dinners.
Max's is open on Thanksgiving, and they also allow diners to place a Thanksgiving To-Go order, provided that it is placed by November 24th at midnight and is picked up no later than November 26th by midnight (at the San Jacinto Blvd location).
You can place large orders including appetizers, soups, sides, sweets, desserts, and even wine! (And of course, Turkey.) For everything great about Thanksgiving minus the hassle of the actual preparation, check out Max's Wine Dive.
4. Estância Churrascaria
For a Thanksgiving dinner with Brazilian flare, head on over to Estancia for a dining experience unlike any other. If you have yet to experience the ecstasy that comes with eating at a Brazilian steakhouse, I highly recommend Estancia as the destination for your Thanksgiving Dinner. But book a reservation today, because space is limited!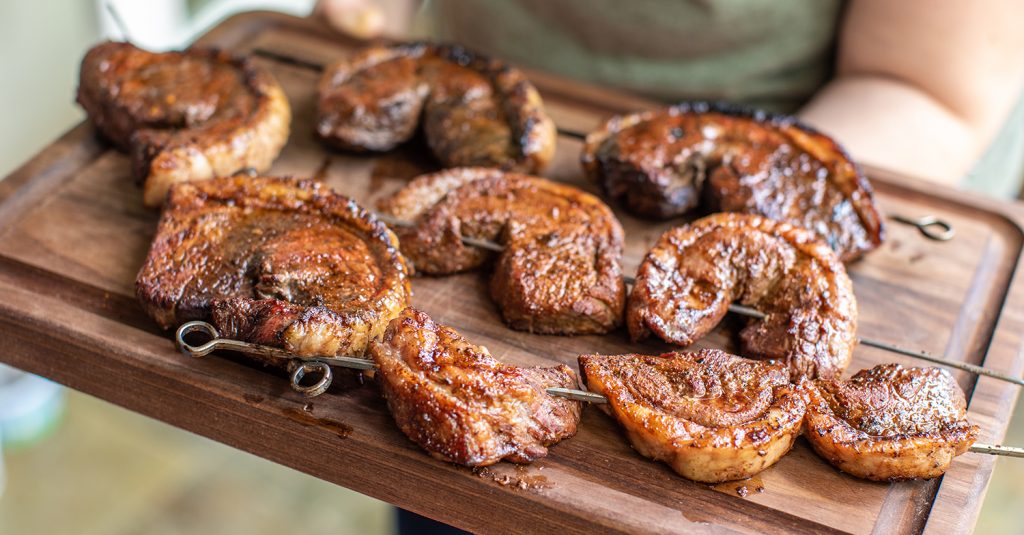 "Picanha" right off the grill.
In addition to their traditional Brazilian steakhouse menu, Estancia will be offering a special roasted turkey in honor of Thanksgiving. It will be served with traditional Southern Brazilian-style sides, an open salad bar, a vast wine list, and a delicious pumpkin pie for dessert.
Don't miss out on a unique dining opportunity at Estancia Churrascaria this Thanksgiving.
5. Buca di Beppo
Buca di Beppo is known in equal parts for three things: 1. their delicious Italian food, 2. their unique Italian atmosphere, and 3. their impossible to pronounce name. (At least for about 90% of the people I meet.)
So before I tell you more about their Thanksgiving Feast, let me first explain how to pronounce the name of the restaurant and what it means. It is pronounced Boo-Cuh Dee Beh-Poe. And—for my non-Italians out there—that translates to "Joe's basement." (Beppo is a nickname for Giuseppe, aka 'Joseph.' And 'buca' is slang for basement.) Sorry to disappoint some of you who may have thought that the name meant something more sexy or exotic.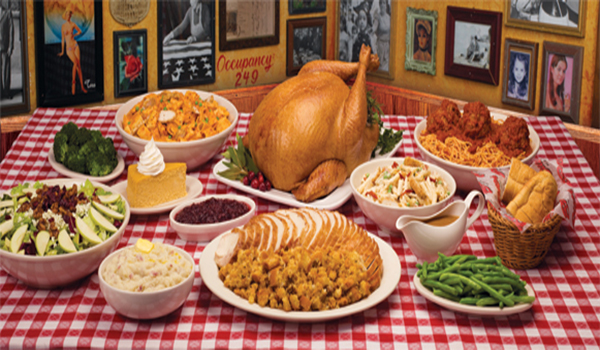 Despite Buca's reputation as an Italian restaurant, they put on a damn fine Thanksgiving Dinner. When you order at Buca di Beppo, you have the option of ordering your turkey feast in-house or to-go. Every meal comes with Turkey or Hickory-smoked ham, homestyle gravy, garlic mashed potatoes, Italian sausage stuffing, green beans, cranberry sauce, and pumpkin pie.
$53.99 will cover a small serving which feeds three, and $98.99 will get you a large serving, which feeds six. Make your reservation at Buca today!
Happy Turkey Day, y'all! Whether you spend it at home with family or at home with friends, I hope you have a great holiday! And for additional restaurants open for the Holiday, check here and here.