This morning—much like every morning—I poured myself a cup of black coffee and sat down at my computer for some leisurely reading.
As I fired up my web browser and pored over reviews of Knives Out while listening to my favorite podcast, I thought to myself what every Austinite thinks to themselves: "I could really use a breakfast taco."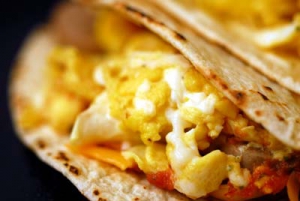 Once you start thinking about breakfast tacos there is no turning back.
Forget Knives Out. Forget that very educational podcast. And forget your early morning classes because we both know that you're not going anywhere until you get that breakfast taco fix. It's not so much a question of if you are getting a breakfast taco this morning. It's more a matter of where will you be purchasing this delicious Tex-Mex treat?
Let me help. After exhaustive personal research, I have compiled what I believe to be The Definitive List of Best Breakfast Tacos in Austin. Here are the top five:
1. Torchy's Tacos
Torchy's Tacos is as authentic Austin as food can possibly get. Founded by Michael Rypka as a taco stand on Bouldin Creek at South 1st, this "trailer park taco stand" has grown to become one of the most recognized and beloved Tex-Mex restaurants in the city—and now the whole state!
Here's a fun fact about Torchy's. "Do you serve breakfast all day?"
Response: "Hell yes. Full menu available all. Damn. Day."
You can't go wrong with any of the breakfast tacos on their menu. If you haven't tried a taco from Torchy's yet—go to your local one right now. (Before the line gets too long!)
2. Mi Madre's
Don't be fooled by the #2 next to their name. There is nothing remotely second rate about the Mom & Pop Mexican restaurant on East Manor. (Just east of 35.) Aurelio and Rosa Torres opened Mi Madre's in 1990. Back then it was a 10-seat taco shop. Thanks in large part to their excellent breakfast tacos, they have renovated twice—expanding their restaurant to include two large dining areas, a large patio, and a to-go area.
A large part of the appeal of Mi Madre's is that their breakfast tacos are for great prices! Tacos range in price between $3.95 and $4.95, but they are stuffed to the brim with delicious egg, meat, potatoes, or what have you. One taco is perfect for breakfast or a snack. Two tacos are perfect for a small feast.
Personally, I recommend the Carne Guisada (slow marinated beef tips) or the Barbacoa. They will make you believe in God.
3. Rudy's BBQ
I know what you're thinking. "Rudy's BBQ isn't even a taco stand! I've only ever eaten their moist brisket and their life-changing creamed corn. Do they even have breakfast at Rudy's?"
And my response is, "Yes, dear reader! They do have breakfast tacos at Rudy's BBQ. And they will blow your mind.
Every morning, the cooks at Rudy's make a large batch of delicious breakfast tacos and lay them out—pre-wrapped—for easy pick-up in the to-go area of the restaurant.
This means that you do not need to stand in line or wait around for your food. Just walk in, pick up however many tacos you want, and you are good to go. (I sometimes eat my tacos on the way out the door.) I'm partial to potato, egg, and cheese. But the brisket tacos at Rudy's are excellent. All of the tacos are great, and you can't beat the convenience.
4. Juan in a Million
Since I moved to Austin in 2009, every single conversation I have had with people has inevitably led to the joke, "haha Juan in a Million!" And you know what? I love it—because it gets me thinking about one of my very favorite breakfast taco locations! I'm honored that people hear my name and think of Juan in a Million. (And bravo to their advertising team.)
Juan in a Million is a landmark of Austin. They have been open for over 30 years and for good reason. Their tacos are proof that God loves us and wants us to be happy. Every single taco on their menu is delicious. (I've tried them all.) And best of all, they are all less than $5!
If you ever find yourself on East Cesar Chavez Street, be sure to visit the famous Mexican restaurant that shares my name and has amazing breakfast tacos.
5. Taco Shack
Rounding out our list is a classic around the UT campus and the Austin area. Orlando and Yoli Arriage founded the first Taco Shack in 1996, and the Austin natives have grown their Tex Mex empire to over seven Austin area locations. Taco Shack is renowned for its delicious and affordable breakfast tacos.
Taco Shack's breakfast tacos start at $2.39 with two toppings. Additional toppings cost only $0.60 extra. For Longhorns living in West Campus or North Campus, I highly recommend checking out the 29th and Guadalupe location before class. It is the perfect start to your morning.
This is by no means a comprehensive list of the best breakfast tacos in Austin. I encourage all of you to keep trying new breakfast tacos. I'm always happy to try a new breakfast taco.
Happy hunting, y'all!