Welcome to your first year at The University of Texas! Whether you are new to the state or a born and bred Longhorn, facing the college experience can be daunting. If you're feeling nervous, take a look at our advice on how to conquer the Forty Acres and make the most of your time at the best university in the world.
1. Get a decent pair of walking shoes
As you may or may not have noticed during your previous visits to UT-Austin, the campus is MASSIVE. It takes almost half an hour just to get from one end to the other, and some parts of campus are across the city. At some point during college, you will have two classes back to back that are across campus from each other, and you'll have to run. So do yourself a favor now and invest in a comfortable pair of shoes. Don't be the freshman limping across campus because they decided to wear super-hip shoes that gave them killer blisters. Your feet will thank you!
2. Join an organization
Everyone has heard this standard, boring advice. But at a school with over 50,000 students, it is easy to get lost in the crowd. If you don't make friends or don't make a place for yourself, you are going to be lost during your time at UT. Fortunately, there are hundreds of different organizations to join, so you're almost guaranteed to find something you love. Or, if you don't, grab two people and pay $20 to create your own registered student organization! If you really want to be happy during college, you need to surround yourself with good friends, and that starts with getting involved on campus.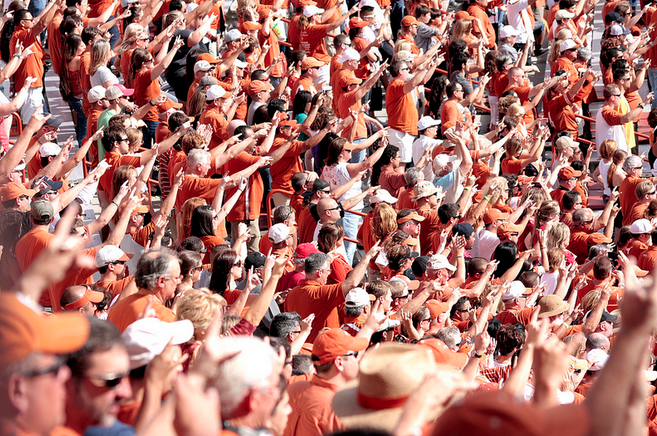 At UT, don't get lost in the crowd
3. Download a UT map
Before classes kick off, make sure that you have downloaded the MyUT Austin app. UT's Campus really is huge. They don't call it the Forty Acres for anything! It'll take you a few semesters before you really know your way around, so use the map in this app and use it often to avoid being perpetually lost. Other than a map, this app gives you information about Housing & Dining, a Directory, Rec Sports, and even your Class Schedule. It will become your best friend, especially for your first semester.
4. Don't skip class
DON'T SKIP CLASS. DON'T DO IT. Just DON'T. It's so easy to skip your 8 am when you're exhausted and the professor doesn't require attendance, but once skipping becomes a habit, your grades are going to reflect your lack of effort. Missing class is the easiest way to tank your GPA, so do yourself a favor early and don't start the habit. Missing class because you have the flu is one thing, but don't skip so you can continue binge-watching Netflix. Remember that classes only get harder every semester, so working hard in your first year at university can REALLY save you in your upperclassmen years.
5. Take advantage of UT's unique features
The University of Texas is an amazing school for a hundred reasons, but one of the best things about the school is its amazing features. Did you know there is a world-renown art museum on campus? What about original copies of 15th-century books? Or a replica of the president's oval office? All of it is just minutes away from your dorm, and often for free. Even the libraries are incredible (seriously, study in the Life Sciences library. It looks just like Hogwarts)! Don't leave UT without really taking advantage of all the school has to offer.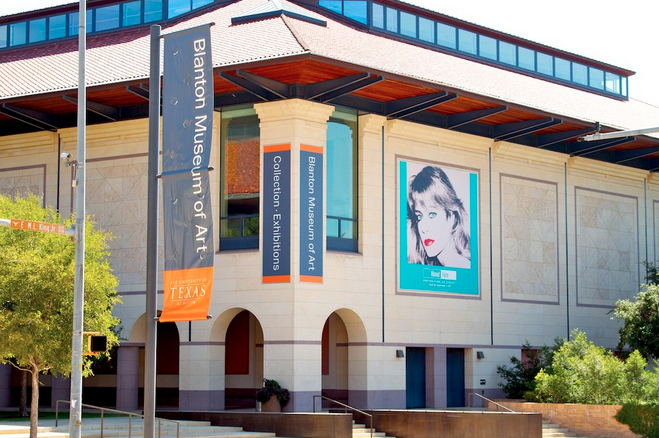 There is literally an Andy Warhol painting just minutes from your dorm.
6. Go to a UT Football game
Some people come to UT just for the football games, and some avoid them like the plague. But if you can, force yourself into going. UT football is a one-of-a-kind experience that other universities just can't match. Even if you hate sports, you will find yourself enthralled by the enthusiasm of the crowd, the immense sea of orange and white, and the amazing Longhorn Band. Even if the thought of watching guys tackle other guys bores you to tears, a UT football game will be a special memory for you long after you graduate.
7. Study! 
A lot of the college experience is late-night parties, wild adventures, and poor choices. Without these things, college just wouldn't be the same. But don't forget what you're really there to do, and that's getting a degree. While your friends at other schools may have easy classes, UT is dead-serious about its academics. University life isn't anything like high school, and to really succeed you have to put in the time and study for your classes. If you don't, you may find yourself facing academic probation or expulsion. So suck it up, and remember that academics are #1!
Studying isn't so bad when the UT libraries are so amazing!
8. Eat as much Austin food as you can



If you're an out-of-town student, you probably grew up eating at chain restaurants or fast food joints most of the time. Well wave goodbye to your mediocre meals and say hello to real food in the beautiful city of Austin! When you can afford to take a break from the dorm food, treat yourself to real food from Kerbey Lane, Torchy's Tacos, or Hopdoddy. Don't just stick to the Drag, venture out and try new things (ride the city bus free with your Student ID)! No matter where you go, you cannot really go wrong with queso and chips.
9. Don't take the experience for granted
I have known a lot of people who shrugged off their time at The University of Texas. To some people, school spirit is obnoxious and college life is just something to suffer through. If you think like this, get yourself out of the mindset or you'll never allow yourself to be open to new experiences or to even have fun. No matter how you slice it, college at UT is an experience you'll never have again, so you might as well appreciate the incredible opportunity in front of you. And really, no one is too cool to throw a Hook 'Em.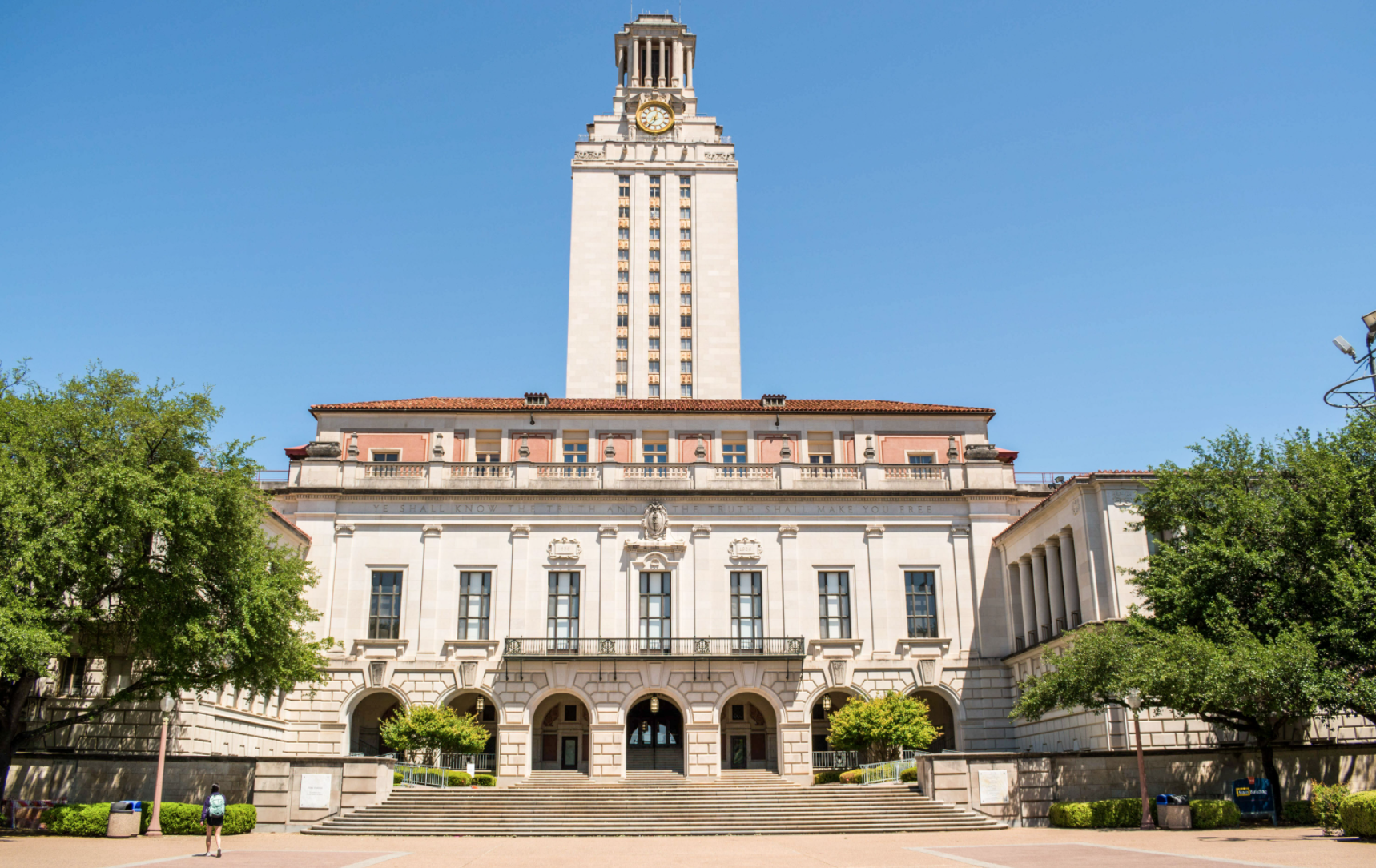 It really is the best university in the world!