Longhorns,
You may have read the Connecting with Friends Amid COVID-19 blog post – in which case, this post does not come as much of a surprise.
If cooking is new to you, or if you just need some healthy recipes to support your lifestyle goals, I got you. In this post, I will be providing 4 of my favorite healthy meals to make…with 3 dessert recipes at the end. It can be difficult to transition from eating dorm food that is provided for you, to then provide for yourself. Or maybe you noticed that you're feeling icky after nights of ramen and dominos and need something refreshing. That's why we're here.
For the meal portion, please find the website below the pictures so that you can follow an exact recipe! For the desserts, I will be providing the actual recipes out of my favorite cookbooks, along with the author and book title if you're interested further.
Mains
#1 Frittata
Frittatas are one of the easiest meals to make and are very healthy too. You have the ability to customize so much with this recipe because it is essentially an egg-pie or omelet in a different form. You can add all sorts of vegetables or cheeses and they are great for sharing, or for meal-prepping. Typically, people associate this dish with breakfast, but I will report that it is delicious at any time of day. Throw a bunch of ingredients into a pan, sauté them, pour over whisked eggs and either bake in the oven or cover on the stove until cooked…voila!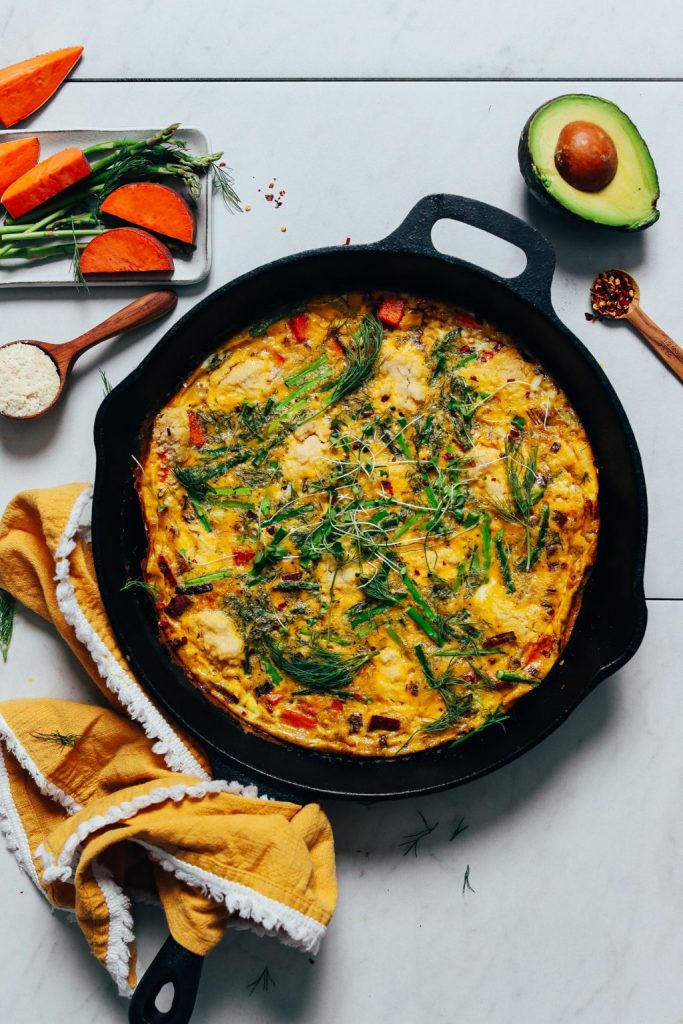 Go to minimalistbaker.com and search "spring frittata" to make this frittata!
#2 Buddha Bowl
Buddha bowls are simply a bowl composed of different elements put together – typically a grain, vegetable, and protein. You may have heard of a "power bowl" or "grain bowl"…it's all the same. I love to make Buddha bowls because it's a well-rounded, colorful, healthy meal and can pretty much be anything you want it to be. My personal favorite elements to use are quinoa, black forbidden rice, brown rice (for grains), sweet potato, kale, avocado (for veggies) and either steak, chicken or tofu. With these suggestions alone, there are all sorts of combinations! The fun really comes in when you experiment with toppings, such as nuts or seeds and a delicious dressing. Also see, lettyskitchen.com to find a "five-minute tamari tahini sauce" to pour on any bowl!
Go to fitfoodiefinds.com and search "sweet potato vegan buddha bowl" to get inspired!
#3 Chili
Chili is a hearty meal that is filling and great for leftovers! It's very versatile because you can pick any meat and then add kidney beans, canned tomatoes, and almost any vegetables that you have. Once you make your chili, you can store it easily in the fridge for up to 3 days. Some vegetables you might consider using include onion, red pepper, garlic, and carrots. And of course, you can't forget the chili powder. You can use different spices to create variety as well.
Go to spendwithpennies.com and search "chili" for some great recipe ideas!
#4 Smoothie Bowl
One of the most delicious and well-rounded breakfasts out there…the smoothie bowl! This is essentially a smoothie in a bowl with added toppings. If you've ever been to JuiceLand or Blenders & Bowls, then this is a familiar concept. If you're wanting to set yourself up for success, you can purchase a bunch of fruit at once and then freeze them in their blender combination in baggies (ex. 1 smoothie portion of strawberry and bananas in a baggie). Then, whenever you want a smoothie all you have to do is choose a bag straight from the freezer and blend! Some of the best toppings for a smoothie bowl are granola, nuts, seeds, fresh fruit, coconut flakes, chocolate chips or even powders like cacao.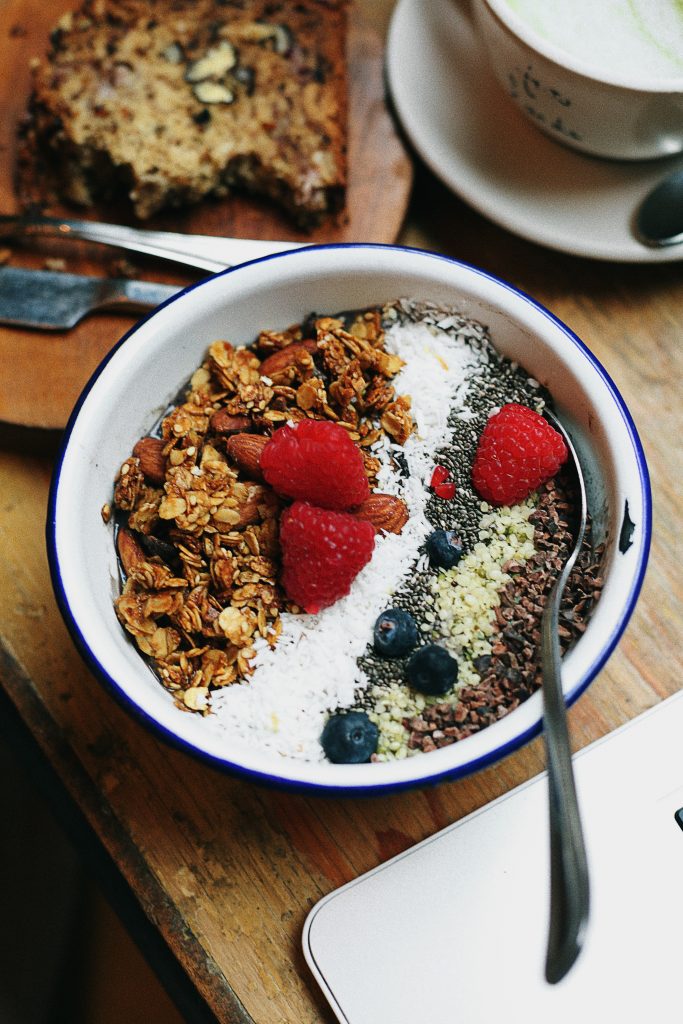 Go to lecremedelacrumb.com and search "smoothie bowl" for a delicious banana nut creation!
Remember to use your creativity! You don't have to stick to an exact recipe, and that is the beauty of these 4 healthy recipes – so much can be left to your imagination. These are just ideas to guide you in the right direction of eating well by giving you the skeleton to making your magic!
Desserts
#1 Stewed Apples with Dates & Cinnamon
by Thomas Yarema, Daniel Rhoda, and Johnny Brannigan in Eat-Taste-Heal.
Serves 2
2 apples, peeled, cored and sliced
4 or 5 dried apricots, soaked in hot water for 20 minutes
4 dates, preferably Medjool, pitted and cut in half
2 cups filtered water
1 tablespoon maple syrup
1 tablespoon grated fresh ginger
¼ teaspoon ground cardamom
¼ teaspoon ground cinnamon
Instructions:
Put all ingredients in a medium saucepan. Bring the mixture to a boil over high heat. Reduce the heat to medium-low, cover, and simmer for 5 minutes. With a ladle, transfer about a third of the contents, including the liquid to a blender or food processor. Blend until puréed. Stir the purée back into the pan. Serve warm.
#2 Baked Indian Rice Pudding with Nuts, Fruit and Saffron
by Phil Vickery in Seriously Good! Gluten-free Cooking. 
Serves 4
1 ¾ cups evaporated milk
¾ – 1 cup whole milk
pinch of saffron threads
1/3 cup short-grain rice
2 tablespoons soft brown sugar
2 tablespoons pistachios, roughly chopped
1 tablespoon roughly chopped almonds
4 cardamom pods, crushed
2 tablespoons golden raisins
Instructions:
Preheat the oven to 350 degrees. Pour the evaporated milk into a measuring cup. Top up with the milk until you have 2 ½ cups. Pour the milk into a casserole dish, add the saffron, and bring to a boil very slowly on the stove. Once the milk is boiling, sprinkle in rice and stir well.
Cover with a tight-fitting lid and bake in the oven for about 1 hour, stirring every 10-15 minutes. Add brown sugar to taste and stir well. Finally, stir in chopped nuts and raisins. Leave it for a few minutes until raisins soften, then serve hot.
#3 Mixed Berry Crumble Pots
by Ella Leché in Cut the Sugar. 
Serves 4
½ cup rolled oats
½ cup date sugar
½ cup coconut oil, cold
3 cups mixed berries (fresh or frozen)
Instructions:
Preheat oven to 350 degrees and grease an 8-inch oven-safe dish or 4 ramekins. In a food processor, mix the rolled oats, date sugar, and cold coconut oil for just a few seconds until crumbs form. To assemble, scatter berries evenly at the bottom of the dish or in the ramekins and top with the crumb evenly. Bake for 20-30 minutes, until crumb turns golden brown. Remove from oven and allow to cool for 5 minutes before serving.
Cooking is a wonderful skill to have, and there is no better time than now to start cultivating it! Good luck!