Longhorns,
It's a big step to move from home to university. It's an even bigger step to leave the cocoon that is dorm life, into an adult apartment! Luckily, you don't have to do it alone.
Housing Scout is a free service available to You that helps you locate, tour, and fill out application paperwork to live in your apartment! What is unique about the Housing Scout experience is that our agents have access to nearly 98% of properties near the UT Campus area. You won't find these properties on Zillow…Housing Scout has personal relationships with management offices so that we can access these properties, providing more housing options for you.
All you have to do is submit your housing preferences on our Get In Touch website page, and one of our agents will give you a tailored experience so that you can find your apartment match for this season!
---
While our agents are happy to provide you with an in-person tour, we understand that it is not always possible. We have been able to move our platform completely online so that you can still get help finding your housing for the next school year, at no cost to you. Here is how: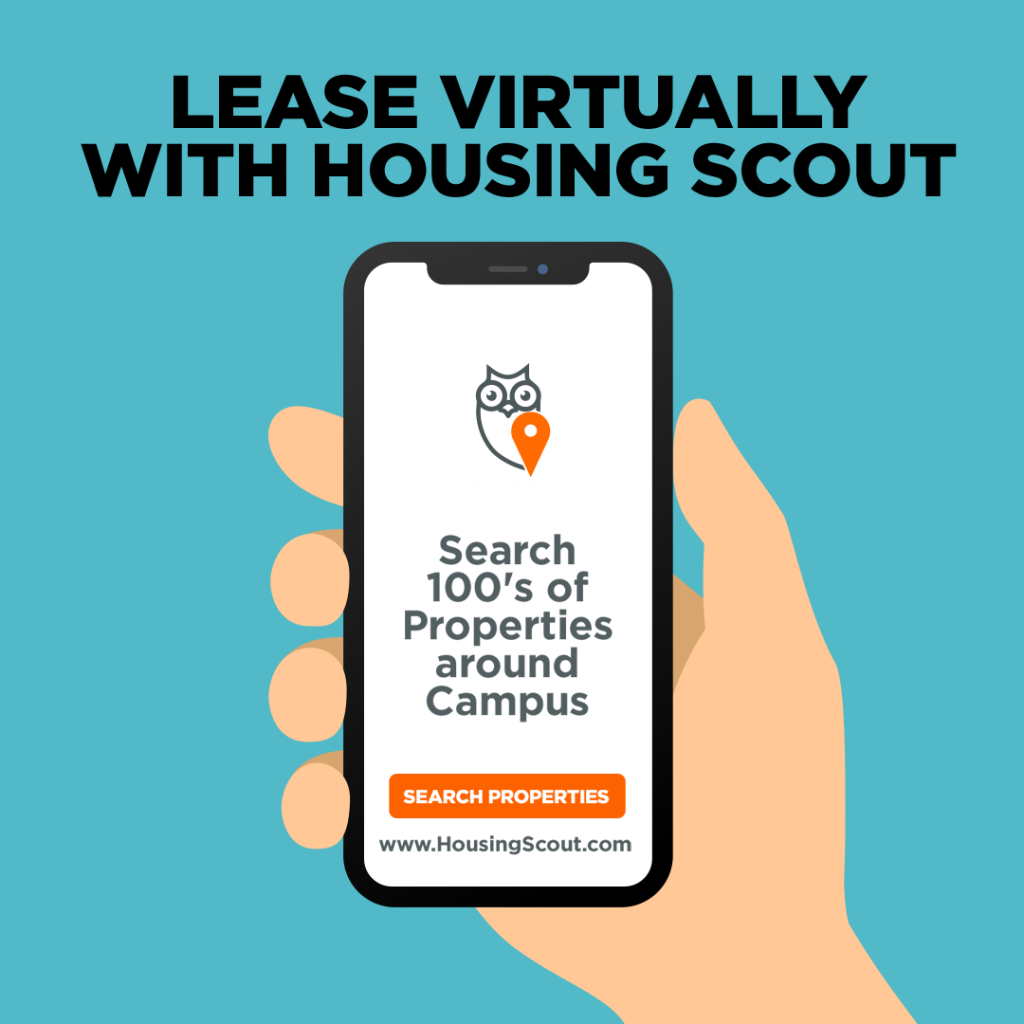 Step 1:
Visit our website at housingscout.com to explore different neighborhoods and property types within your budget.
***Our website showcases properties all over Austin, with a focus near UT in the West and North Campus neighborhoods.
Step 2:
Get in touch by clicking "Get In Touch" under the property of your choice and fill out the information questionnaire.
***Then you will be connected with an agent within hours! They will reach out to you via text or phone call.
Step 3:
Your agent can help you with a virtual tour of the properties you're interested in. Many properties have been able to film short videos of their properties or take pictures for clients to review. Also, your agent can conduct a FaceTime/Zoom tour with various properties. Your agent can also ask if the leasing office is offering any application specials at the moment.
Step 4:
Once you have taken your virtual tours and have made your decision, your agent will walk you through the leasing paperwork and monies due to secure your apartment.
***Monies may include application fees, security deposit and 1st month's rent for condos and houses.
Step 5:
After your application is approved, you will digitally sign your lease with the management company!
---
There are hundreds of available apartments around UT campus – but we can help you navigate this important decision.
If you have any questions or need immediate assistance, call us at 512-900-7963 or use our website chat!