If you're a University of Texas at Austin student opting to live off-campus in West Campus, you were likely attracted to the neighborhood for what it offers college students today: A great vibe and friendly people. An abundance of excellent restaurants, bars, shops and services. Historic neighborhoods with eclectic old buildings and mansions amidst modern, "state-of-the-art" high-rise apartment buildings. And, have we mentioned a fantastic music scene and plenty of live sporting events? (GO Longhorns!)
West Campus is geographically compact (approximately ten blocks long by ten blocks wide). Your classes are all just a quick walk or bike-ride away from wherever you live in West Campus. It's no wonder that for more than half a century, over 17,000 students have made West Campus their home away from home for the ultimate college experience. So, how did West Campus grow to become one of the most colorful and unique college neighborhoods in the country? Here are a few things that have helped make West Campus what it is today:
The Drag
Guadalupe Street (also known as The Drag), one of the most famous streets in Austin, is a gateway into West Campus adding to its uniqueness. The iconic street was dubbed "The Drag" as it served as one of the main corridors for horses to drag carriages of students and faculty (and their belongings) back in the university's early days nearly 140 years ago. These days, the mile-long stretch of the street adjacent to UT is popular for its cafes, boutiques, buskers (also known as street musicians), and university events.
Go Greek
UT Austin has had a robust Greek system on campus since the early 1900s. Currently, the university boasts nearly 70 active Greek organizations. The country's oldest fraternity, Phi Beta Kappa, started a chapter at UT Austin in 1905 while the country's oldest sorority, Gamma Phi Beta, came to the university in 1922. Over 50 of the university's Greek houses are located in West Campus. The array of old fraternity and sorority houses add to the unique flavor of the West Campus neighborhood.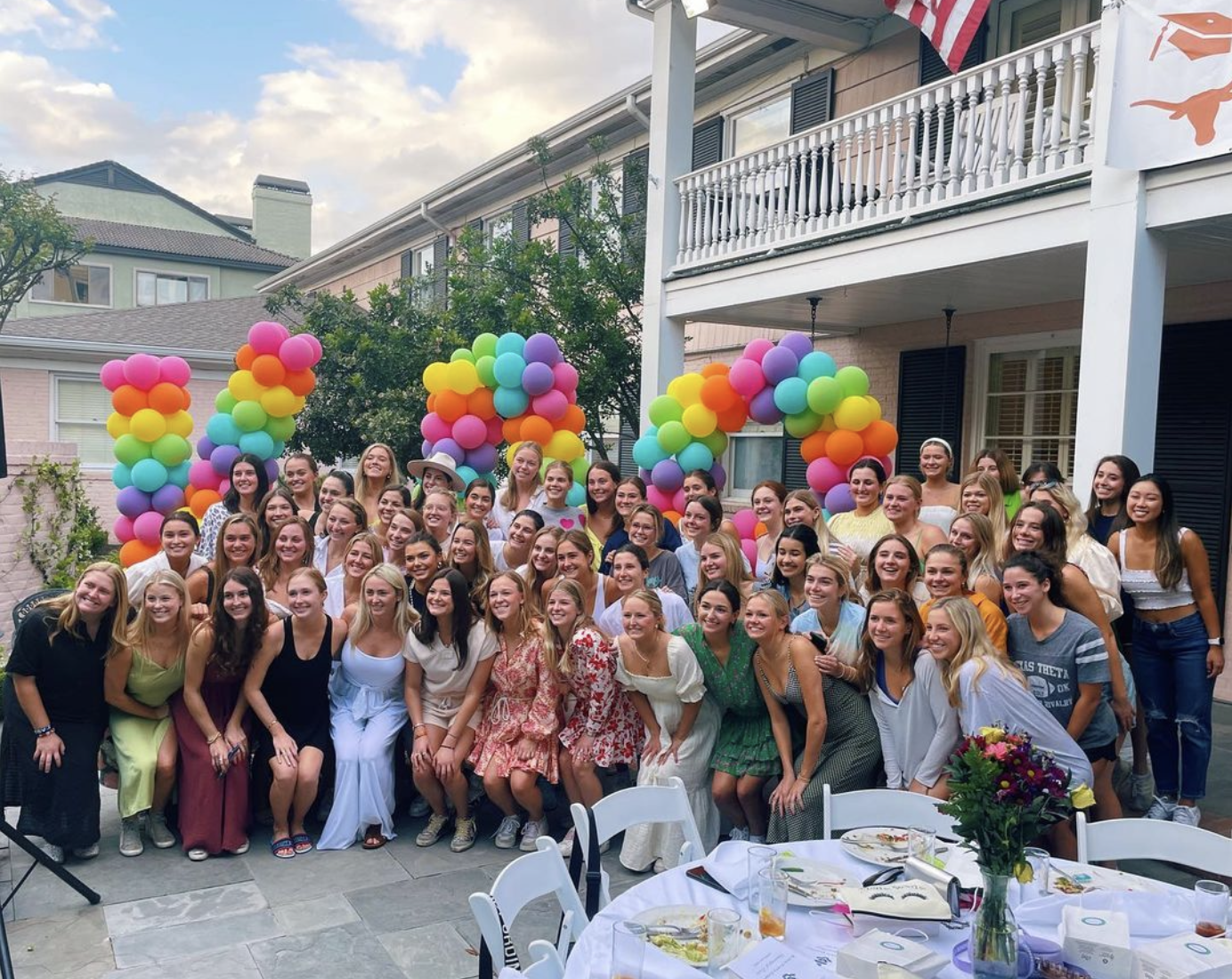 *Texas Theta – Kappa Alpha Theta*
Diverse Architecture
The streets of West Campus are lined with some of the most unique architecture in the city. Whether it's iconic Guadalupe Street or other well-known streets in the neighborhood such as West 29th, North Lamar Boulevard, Martin Luther King Jr. Boulevard or San Gabriel Street – the diversity is striking. It's not uncommon to see an 80-year-old custom-built bungalow next to a sparkling high-rise apartment building.
Pease Park
One of the jewels of West Campus is Pease Park. The parkland was originally part of the (365-acre) Woodlawn Plantation property owned by Texas Governor Elisha Pease in 1857. In 1875, Pease and his wife Lucinda donated 42 scenic acres of the land to the city to use as parkland. Students and visitors alike enjoy escaping to beautiful Pease Park for a picnic, sporting event, or relaxing in nature.
Are you interested in the UT West Campus experience? Contact the licensed agents at Housing Scout today. They can help you find the perfect place to live that's less expensive than the dorms.