Everybody in Texas (and soon the World) knows Austin as the "Live Music Capital of the World." Or as the "city of bats." Or as "that one city with the best breakfast tacos I've ever had." The City of Austin holds a special place in the hearts of many. It doesn't matter whether you love food, music, sports, comics, movies, or whatever—Austin has got something for you. When I turned 21 years old, one of my fraternity brothers made the mistake of introducing me to the Austin beer scene. Up until that point in my life, the only beers I had ever drunk were piss-flavored Natty Light or Keystone Ice, and an occasional "nice beer" like Dos Equis or Blue Moon. I cringe thinking back to those dark times. (In case you didn't know, Blue Moon and Shock Top are NOT good beer. Neither are Leinenkugel, Red Hook, Magic Hat, Goose Island and Pyramid—to name a few.)
And don't even get me started on that dirty water they serve at Cain & Abel's on Tuesday night…
Since that fateful December night, when I took my first drink of a Left Hand Milk Stout, I knew there was no turning back. My beer journey had begun. In the past three years, I have spent countless hours and God knows how much money on that glorious liquid that saved the world. In this time I have learned a thing or two about not only beer but the places where it is served. Unlike many (casual) beer drinkers, I do not simply stick to the beers I already know and like. Rather, I am always on the hunt for something new. Whenever I go out for drinks I am on the prowl for interesting and rare beers that I have never had. As you might imagine, this makes lots of popular places like Cain & Abel's or ALL of dirty 6th a no-go for me. (Seriously, stop asking me to go to dollar beer night at Cain & Abel's. The beer is awful and the people are worse.) You should know by now that Austin's craft local beer scene is BOOMING. There are probably tens of amazing places you could go, but in hopes of guiding some of you soon-to-be beer connoisseurs, here is my list of the 5 Best Places to Drink Good Beer in Austin.
1. Austin Beer Garden & Brewing Co.
Called the ABGB for short, this brewpub was awarded the 2016-17-and 18 Great American Brewpub of the Year! Everything that they serve is of their own making, and you can feel all the love that's poured into each pint. It's a little bit south, located on W. Oltorf but I know it's worth the drive! They have a smaller selection of six mainstays and 3 "sometimes" beers and their selection tend to have more dry hoppy beers. They have happy hour Tues-Friday from 3-7 pm for $1 off prints and $2 off pitchers.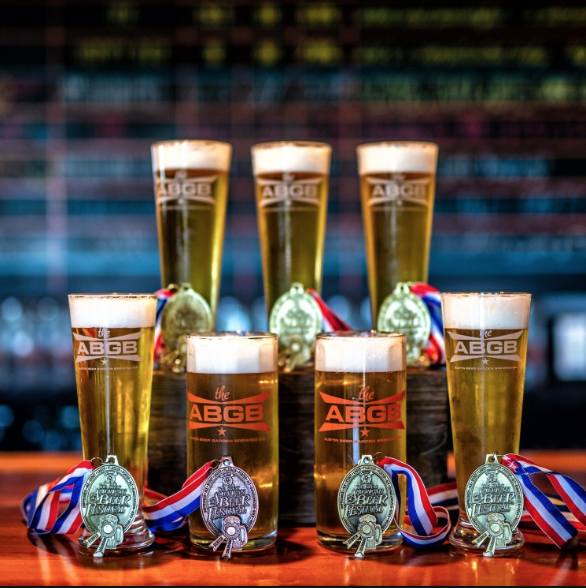 Aside from beer, they also have an extensive menu of quality, delicious yoms like pizza and sandwiches. The quality is a yes, the atmosphere is a yes, the live music is a yes, and the BEER is a yes. So, it's a yes.
2. Hopfields  
For any of you beer connoisseurs residing in the North Campus/Hyde Park area, I highly recommend checking out Hopfields the next time you are in the mood for a beer. Located at 3110 Guadalupe Street, Hopfields is a smaller pub-style bistro with an impressive beer selection, curated by a brilliant beer mind.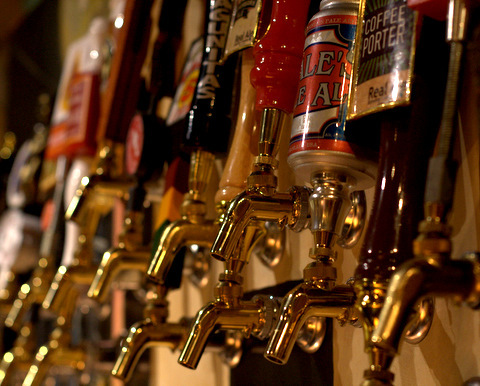 In addition to beer, Hopfields also has an excellent selection of Parisian-style French cuisine and wine. And they regularly host food pairings and wine tastings as well as rare beer events. If you are looking to class things up next time you go out for a beer, or if you want to impress your significant other with filet mignon and top-notch drinks—go to Hopfields. You won't regret it.
3. Banger's 
Located on Rainey Street, Banger's Sausage House & Beer Garden borders dangerously close to the "downtown" Austin area that I, as a rule of thumb, avoid like the plague. Well, rules of thumb be damned! Banger's is awesome and you should go there. Banger's has over 100 beers on tap any given night, and they are the closest thing Austin has to a traditional German-style beer garden/beer hall—their huge outdoor area even has a dog corral and a playground for the kids.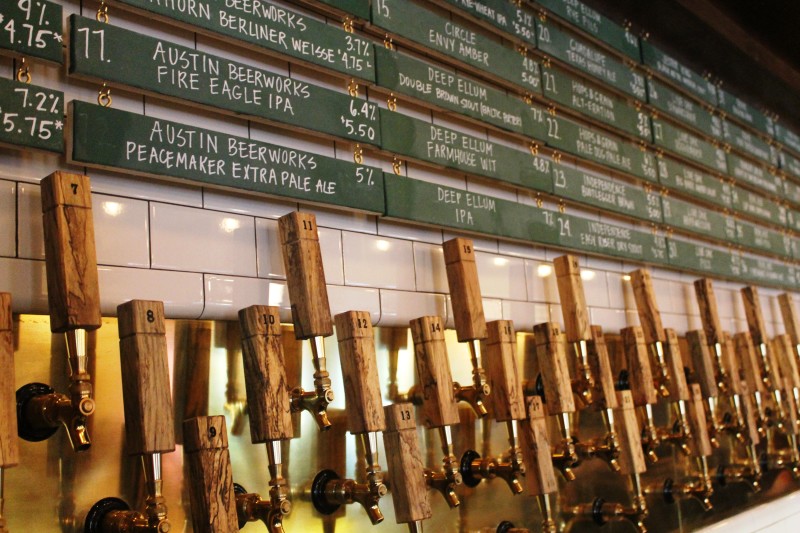 With an incredible selection of local, national, and international beers, Banger's is a great place to go no matter where you are on your beer journey. There is something for everybody here. Check out their website for events and live music!
4. Draught House Pub 
The Draught House Pub & Brewery in North-Central Austin has been a long-time favorite destination for beer enthusiasts in Central Texas. Draught House has had a reputation for being THE first stop for distribution outlets-–meaning that they usually have the very best selection in the city. (Hundreds of beers on tap.) This is especially a great stop for anyone looking for rare Texas beers.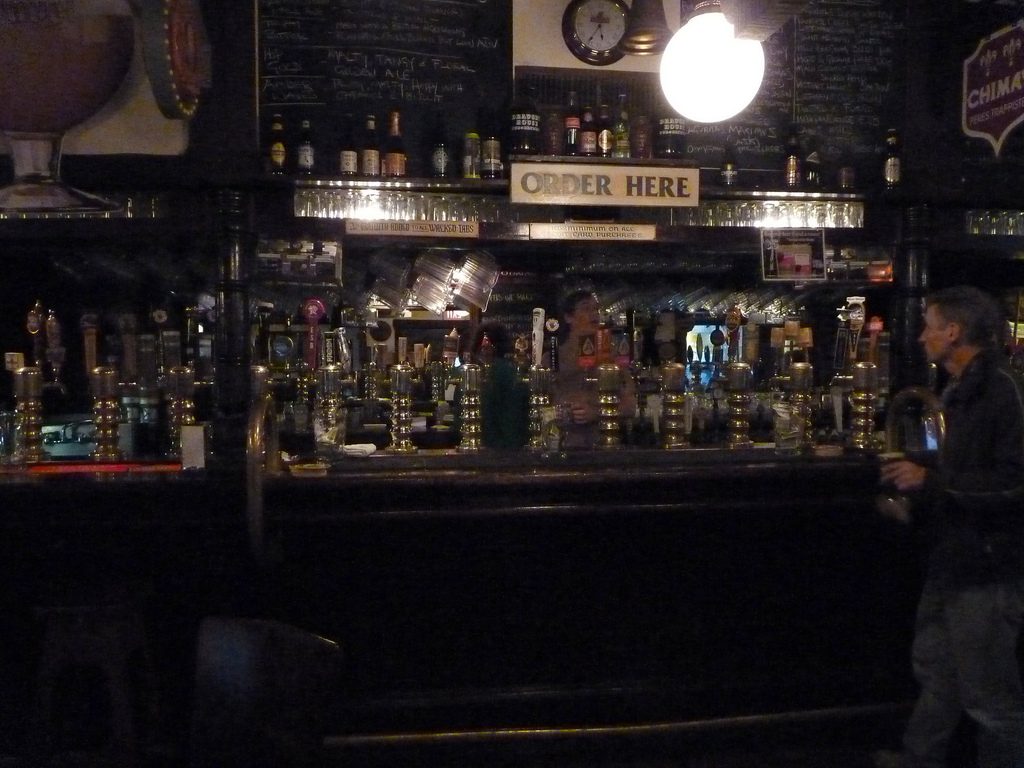 The Draught House also hosts (arguably) the city's best beer festival in early October. You won't want to miss out. Don't sleep on the Draught House, y'all!
5. Pinthouse Pizza 
I was hesitant to include this one on the list, but only because I consider these guys more of a "Brewpub" rather than a "Beer Bar" like some of the others on the list. Joe Mohrfeld, the Pinthouse brewer and a former Odell brewer, is a wizard who makes some tasty beer. Every time I find myself up there, I opt to drink Joe's brews rather than any of the rare 40+ beers on tap just because they are that good.
Oh, and did I mention that Pinthouse has some of the best pizza in the city? I highly recommend pairing your rare craft beers with a delicious pizza from Pinthouse the next time you find yourself up in North Austin. You won't regret it.
Happy drinking, y'all! I sincerely hope this article helps set some of you on a life-long journey of beer and happiness. Cheers!