So, sure, being "extra" means over the top, excessive, and maybe a little dramatic. But extra is not a bad thing when you're considering where you want to live when you're heading to the University of Texas in the fall.
Living in West Campus and attending The University of Texas in Austin can provide the BEST college experience. The West Campus area is the place to be, and dozens of high-rise apartments compete for students each year. That means, along with the location and the price, these over the top, luxury towers add some fantastic amenities to attract students and their families. Are these amenities "extra?" Sure, but they're also fabulous.
What amenities are you looking for during your college experience? Let's take a look at the eight most extra amenities offered by high rises in West Campus.
The Future is at Torre
We are living in the future, and Torre knows that. Every apartment is equipped with whole-home automation that means you barely have to lift a finger. The whole-home automation includes smart controls and appliances. Also, don't miss their over-the-top amenity-packed sky deck and two-story townhome units. It's convenience and luxury living taken to a whole new level.
Find Your Center at Lark Austin
Maybe what you want is to slow things down a little. You can find that at Lark Austin. The high-rise apartment complex offers on-site yoga and meditation classes. Whether you want to feel invigorated to start the day or relaxed at night, they have the class for you.
Panoramic Views from Ion Austin
Living in Austin should mean you get to see Austin, right? At Ion Austin, you will have a panoramic view of downtown from the two-story lounges. Spend time relaxing, studying, or socializing while overlooking one of the best cities in the country.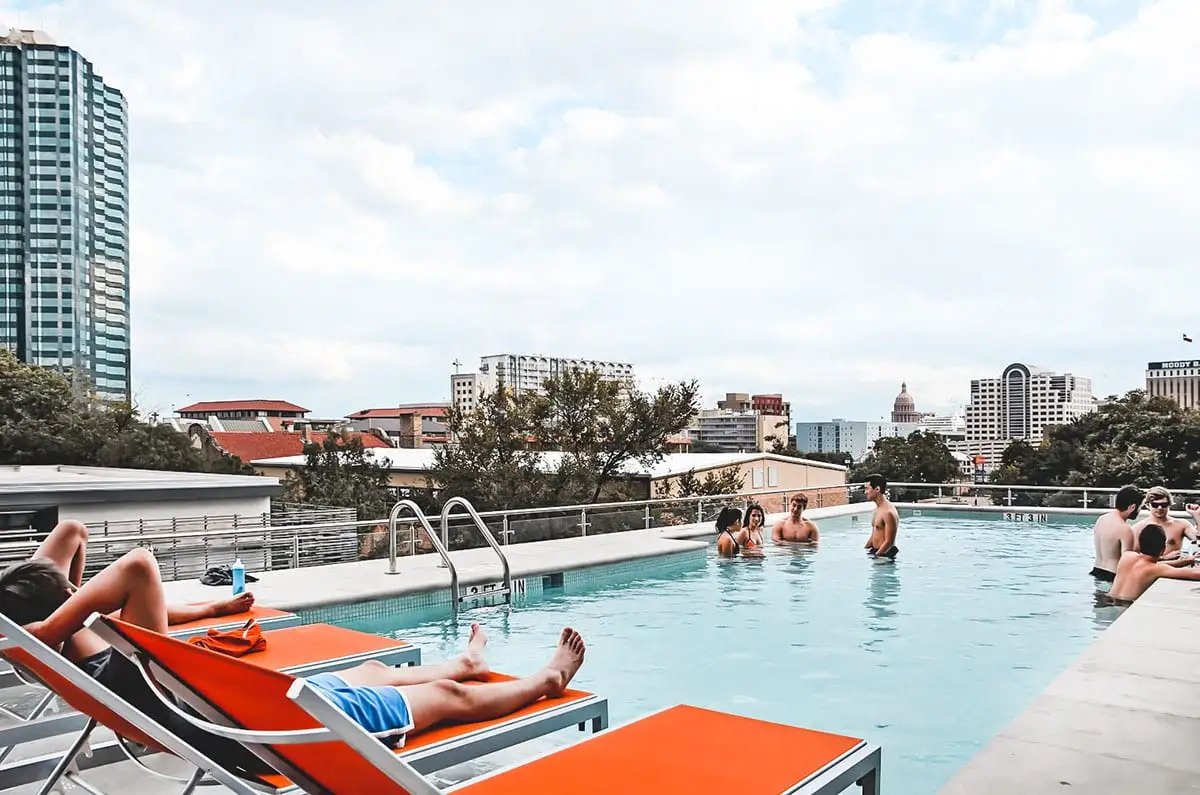 Swim in the Sky at 21 Rio 
Pools and sundecks are a must-have for recreation in the South. Rooftop pools take it to the next level; no pun intended. At 21 Rio, you'll have access to  their newly updated amenities including their rooftop space for swimming, lounging, or hanging out with friends and classmates.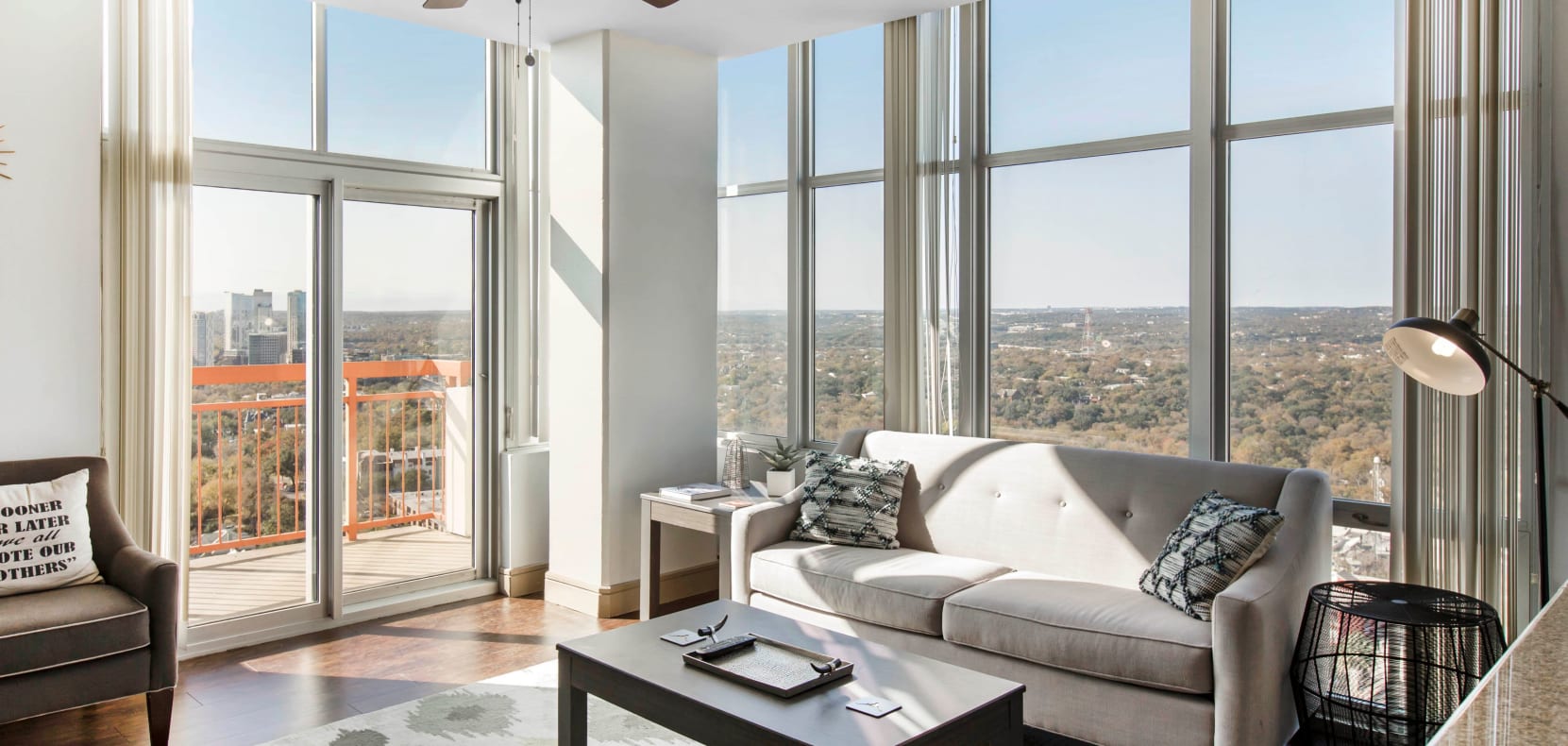 Eat Well at Skyloft 
The college experience is unlike any other lifestyle. And that means sometimes you need an extra snack or crave a nutritious meal. Skyloft has you covered with their Skybites Market – an in-house fresh market.
Security is a Priority at Signature 1909
An essential consideration for many students and their families is increased security. Gated garages, key fob access, and private security are all critical. Signature 1909 has that and more. They also offer 24/7 package pickup and 24 hour emergency maintenance to residents.
Something Even More Extra
Up until now, we chose just one extra amenity per building. But these next two buildings couldn't be summed up with just one thing. These extra-extra high-rises each have multiple attractions that might make you think harder about where you want to live during the school year. Check out these extras.
Deluxe Spa at Villas on Rio 
Ever feel like the stress of papers and exams can be overwhelming? The Villas Spa, a state-of-the-art luxury spa sanctuary, is only footsteps away! Located on the first floor of the building, it has everything you can dream of: cold plunge and hot soaking tubs, meditation rooms, steam sauna and yoga studio. Also, if you need more another scene for relaxation, The Villas on Rio offers incredible private hammock cabanas to catch a nap between classes or chill out on the weekends.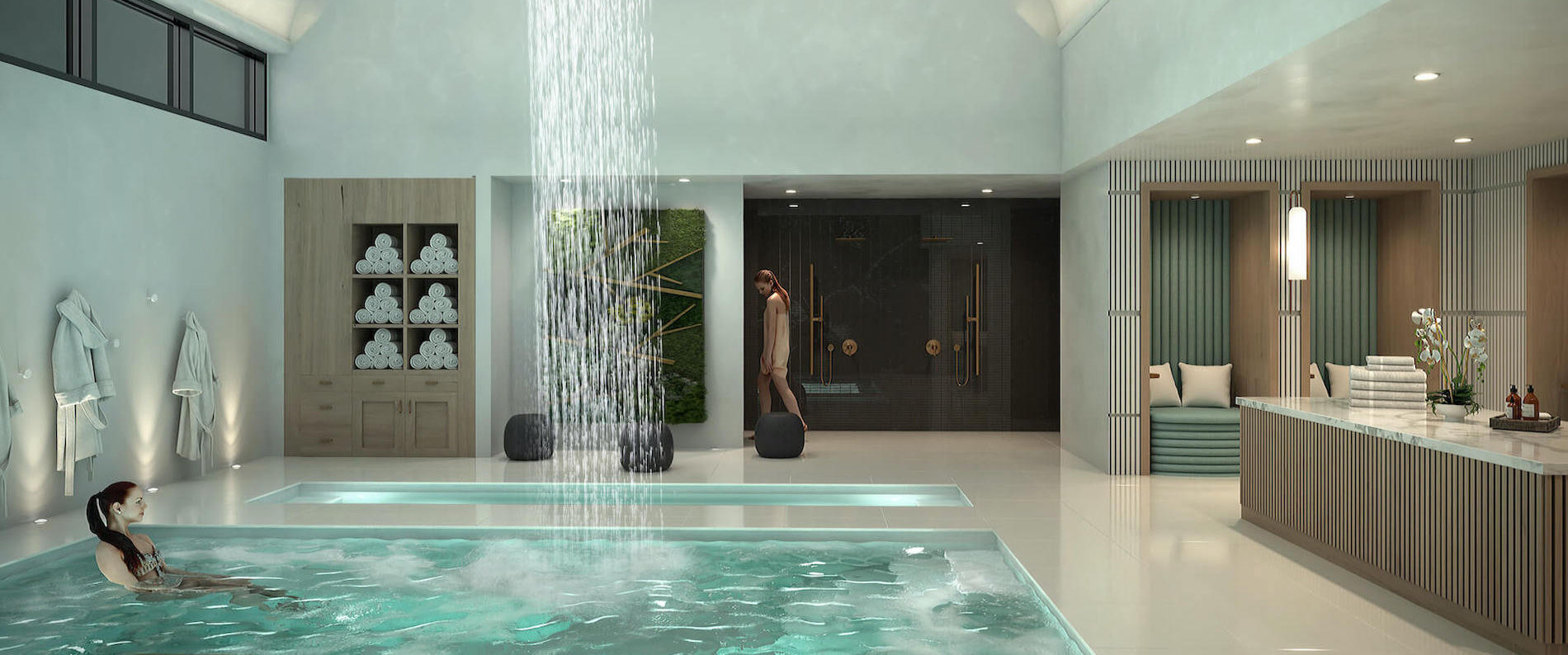 Have it All at The Standard 
And what might be the creme de la crème of student high rises is The Standard. We couldn't narrow it down to just one extra amenity. They have a poolside jumbotron for watching Longhorns games. You can relax in the sauna. And, if you're fancy, spend time on the VIP deck and lounge.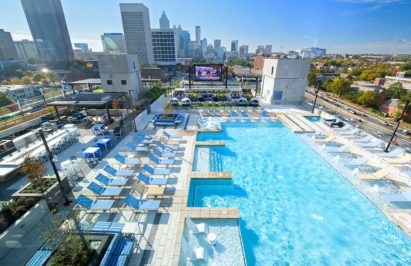 There's one more thing you might want to know about living in a high rise in West Campus. All of the properties offer single-occupant leases. That means even when you're living with roommates, you're only responsible for your portion of the lease. It can give you and your family peace financial of mind during your years at UT.
Do you want to know more about high-rise living in West Campus? Housing Scout can answer all of your questions and help you find the best place to live when you start college. Give us a call today!