Have you ever pulled an all-nighter? Whether you're cramming for finals or spending the night celebrating a big victory with your friends, it's good to know where to get your caffeine fix in the wee hours. Many of these spots are usually open 24/7, though some things have changed a little over the last year. We always encourage you to review the company website or contact them for the most up-to-date information.
Austin's coffee scene is pretty robust, so check out these late-night coffee shops.
Buzz Mill
Do you want a Honey Badger Latte made with local honey? Or maybe you can check out the decadent caramel apple latte? And don't worry, Buzz Mill has classic favorites, too, including cold brew. And chai for those who love coffee shops but not coffee. They also sell beer and liquor for the over-21 crowd. They're located on Town Creek Drive and open 24 hours a day.
Bennu Coffee
With three locations in Austin, including one close to campus on MLK, Bennu Coffee is a perfect place for those late-night caffeine fixes. The company opened as a true mom-and-pop enterprise by a couple who themselves met at a coffee shop. They're committed to local ingredients and supporting the community. Get hot drinks, cold drinks, and even pastries. They even have gluten-free and vegan menu items.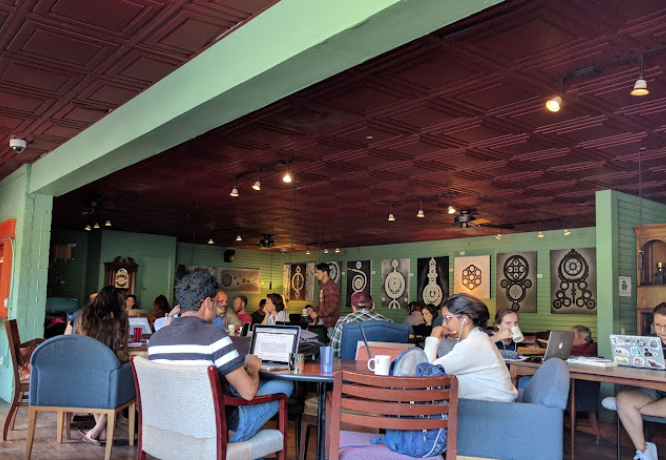 Epoch Coffee
The closest of the Epoch Coffee locations is on North Loop and only a short bike ride drive from campus. They're open daily until midnight. You can get regular coffee, and refills are only $0.50! They can also make you all the fanciest drinks if you prefer a latte, macchiato, espresso, cappuccino, or whatever else. Not a coffee drinker? Order a chai latte, milk and honey, or hot chocolate.
Mozart's Coffee Roasters
Open seven days a week from 7 am to midnight, Mozart Coffee Roasters has been a part of the Austin Community since opening in 1993. Located overlooking the Colorado River, it's not just an excellent place to fuel up for studying; it's also a beautiful one. And they offer bottomless coffee all day! You pick from one of their regular roasts, and for less than $5, you can get refills the entire time you're there studying or hanging out with friends.
Cosmic Coffee and Beer Garden
It may be just a little further from campus, but you can't miss the one-of-a-kind Cosmic Coffee and Beer Garden. And when they say "garden," they mean it literally. They have a biological pond and garden using sustainable permaculture techniques. They are open until 11 pm most nights and midnight Thursday through Saturday. Cosmic Coffee is also 21 and up after 9 pm every day. Dogs are always welcome.
Opa! Coffee and Wine Bar
A cozy, Greek coffee shop and wine bar in south Austin? Yes, please! If you haven't indulged in coffee or treats made in the Greek style, you're missing out. It's a coffee shop by day and a wine bar by night featuring open mic entertainment on Tuesdays and a dog-friendly patio every day of the week. Be sure to check out the food because it's just like your Yia Yia (that's Greek for "grandma") used to make.
Radio Coffee and Beer
Another spot worth traveling to is Radio Coffee and Beer. The inside has a casual pub atmosphere, and they're open until midnight Mondays through Saturdays. They roast their coffee in-house to make the perfect brew every time. And, if you're over 21, they have beer on tap and plenty of cocktails to choose from. They're also known for their amazing outside space with picnic tables, a stage for live performances, and regular food trucks and farmer's markets.
Do you want to make sure you have access to the best coffee in Austin when you go to UT? Contact the agents at Housing Scout to learn more about living in West Campus.